Spoilers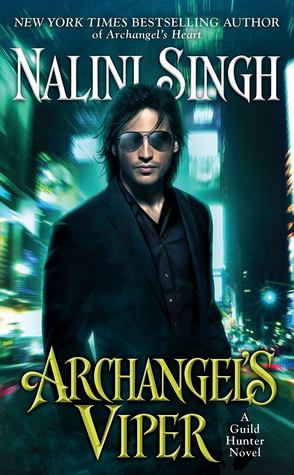 I know I have said this before but it bears repeating... Nalini Singh is flipping brilliant. Her books have never disappointed me and she is the one author who has kept my interest without trying...
Ahhh... I loved Holly from the moment she was introduced as Sorrow in the third book (I think) she was so broken and yet not... Viper really came off as an ass until the moment when he first talked to her and then I saw something else in him a gentleness edged with steel that I hadn't seen in him before...
Their story was perfect despite the way Nalini went with the whole Uram echo trying to come back from the dead (Which isn't where I would have led the story but it was still interesting LOL) I truly loved the way she portrayed Holly as a girl who'd bent instead of breaking when her world was literally ripped apart by a madman/mad-archangel who stole her mortal life...
Viper-who is poison-is the perfect match for Holly. They struggled to find their way through the attraction they felt for each other for so long because Viper assumed she was much too young for him but he manages to get past that when she might be in danger because he's always known in his soul that she was his...
It's their in those first few meetings between them only hidden behind their patented dislike of each other... I love this series about Elena and Raphael and the Seven. I really hate for it to end but with only one more extra (Illium's) story to go sadly so it might not be long before we see the end of the guild hunter series w
hich breaks my heart...
Back to the story you have Holly—who has been targeted by some unknown baddy who wants her alive—Viper who wants to protect her but also allow her to come out of her shell—and the ever present archangel overtones that mark all the guild hunter books. Lovved it.
When they break into the bitch archangels compound to find the disgusting mass of goo that is the last part of Uram and find out that Michaela is a little bit less heartless than we were led to believe we see Holly broken but strong as Uram tries to live but ends up nothing more than dust...
Holly survives and gets to keep the changes that she's been gifted allowing her to be Viper's woman... Such a wonderfully written story about the latest couple
So for me this was an EPE or a five star read... keep up the good work Nalini—I love your stories and hope they never end ;-)